We Are Thankful For All of Our Patients!
Dr. Alexis May Tran Kimble
Dr. Alexis May Tran Kimble is Medical Director of Women's Center for Pelvic Wellness. She is among the few women in the country who has dedicated her entire life to caring for women. Her lifelong passion for improving the quality of life for every woman began early in her career. She has developed programs for the less privileged, personally developed a not-for-profit organization solely to help women in need, and began to change the course of countless women's lives in Southern California. Her belief that all women are "beautiful from the inside out" is something that resonates throughout the Center's practice.
She earned her medical degree from Western University of Health Sciences in California. From there, she went on to complete her residency in obstetrics and gynecology at Albany Medical College in New York. Not stopping there, Dr. Kimble was fellowship-trained in Female Pelvic Medicine and Reconstructive Surgery at the University of Chicago Pritzker School of Medicine
During her extensive training, Dr. Kimble received several awards, including excellence in teaching and laparoscopy. She has also authored the book chapter named, "Biological Grafts in Reconstructive Pelvic Surgery" in the core textbook used in female urology titled, "Textbook of Female Urology and Urogynecology" by Cardozo and Staskin. Other chapters she has authored include, "General Gynecology" in Pocket OBGYN, a core reference manual for rotating medical residents in gynecology. Dr. Kimble has written numerous papers in peer-reviewed journals on the topics of energy-based devices for vaginal and vulvar conditions, overactive bladder, painful bladder, pelvic pain, and surgical outcomes following prolapse repair. She has served on multiple global missions to India and South America, in conjunction with the International Urogynecological Association and the Urogynaecology and Reconstructive Pelvic Surgery Society of India as well as Saving Mothers, respectively to share her expertise in women's health and pelvic floor surgery. She is a Key Opinion Leader in vulvovaginal health.
Her clinical and research interests include surgical outcomes for prolapse as well as noninvasive and restorative therapies for pelvic floor disorders. She serves on the national consensus panel to create guidelines on the application of Energy Based Devices for Women's Genitourinary Health for the American Urogynecological Society. She is invited faculty by ASLMS (American Society for Laser Medicine and Surgery) on the topic of Evidence Regarding Energy Based Devices for Cosmetic Gynecology, teaching other physicians on these topics.
Click her for more on her peer reviewed journals on the National Library of Medicine/National Institute of Health
Under the leadership of Dr. Kimble, the Women's Center for Pelvic Wellness has been chosen and is established as one of four national training centers for aesthetic vaginal and vulvar surgery.
When she's not working, Dr. Kimble enjoys exercising outdoors — including running, biking, and swimming — and spending time with her family. She's also an avid reader and enjoys discovering new authors.
---
Welcome our new addition, Olympia May Kimble who was born March 4, 2020. I feel so fortunate to have had Olympia days before the pandemic was announced. Now she is already 12 weeks old!
Read about how I have been getting ready for summer and back into my beach body after my fourth baby on our Blog page.
---
Dr. David Kimble
Dr. David M. Kimble is the CEO of Women's Center for Pelvic Wellness. He comes to Southern California after caring for thousands of women in New York for over two decades. His entire career has been dedicated to advancing the care of women, dramatically improving their quality of life.
Dr. Kimble earned his medical degree from University of Florida in 1992. He completed residency training at Albany Medical Center in 1996 and shortly thereafter became a professor at Albany Medical College teaching medical students and residents. He was conferred the most prestigious "Golden Apple" award for his exceptional surgical acumen and teaching skills. Just to name a few, he has been awarded the "Gentleman's Award," "Surgeon of the Year," "Teacher of the Year," and numerous more. As a testament to his renowned bedside manner, he taught a course to medical students entitled "The Power of the Human Touch" in which he stressed the importance of the patient/doctor relationship.
He is a man who is known by many names; the most descriptive of which is Surgical Artist. Hundreds of former residents and visiting surgeons from all over the world have recognized him as an artist in the operating room, creating beauty from the inside out. He is acclaimed for his steadfast attention to detail and is recognized by his colleagues as a master surgeon.
Dr. Kimble is also known as a great innovator. He has perfected surgical techniques that have changed the way surgeries are performed throughout the nation. He has performed some of the most challenging surgeries drawing international attention and recognition.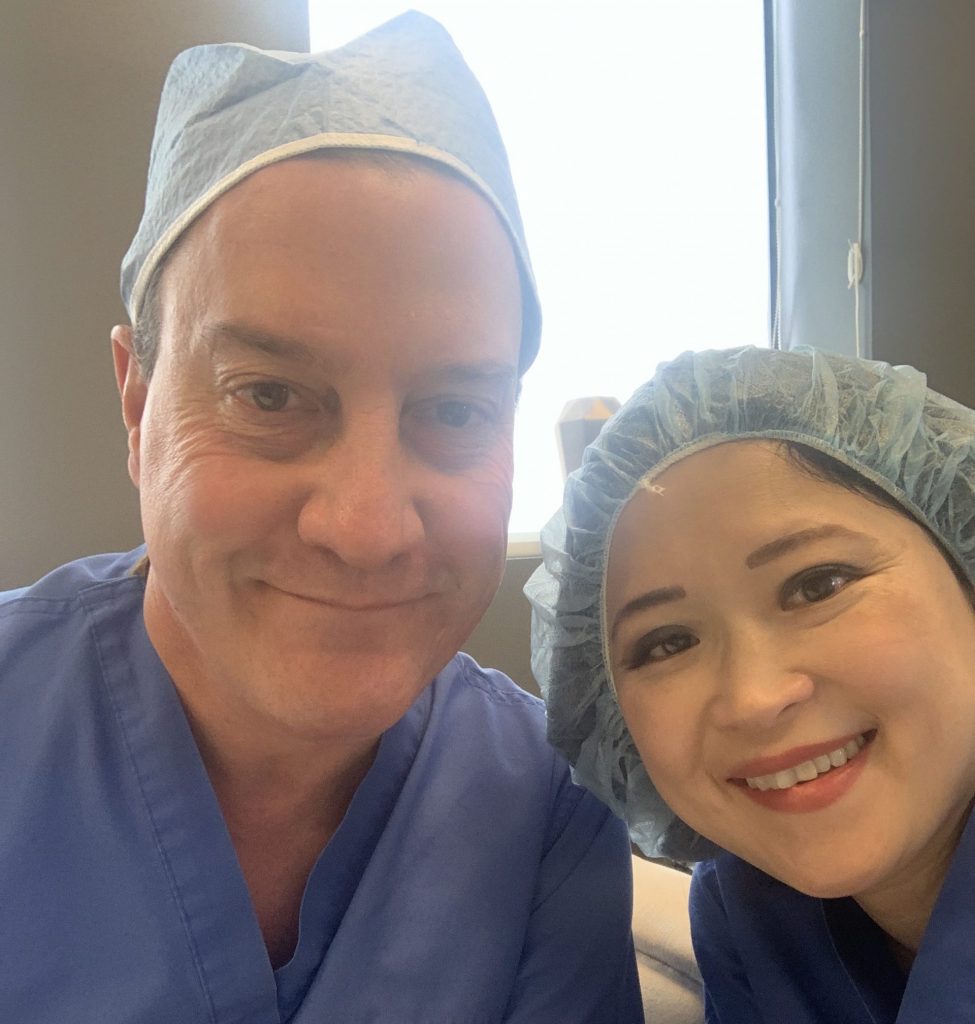 He is also known as a pioneer in medicine and surgery. Before transitioning his practice to Pasadena, he was the 10th busiest Robotic Surgeon in the country and deemed one of the nation's top robotic surgeons. He taught robotic surgery to hundreds of surgeons internationally and is often requested to teach and lecture at national conferences. While in New York, he was the Chief of Female Reconstructive Surgery and the Director of Robotic Surgery for all surgical specialties and created one of the busiest robotic surgery programs in the US, if not the world. In fact, Albany Medical Center went from just 50 robotic surgeries yearly to over 1,200 surgeries yearly under the leadership of Dr. Kimble. Patients from all over the world travel to have Dr. Kimble perform their needed surgery. It is this pioneering spirit that led to the establishment of the Women's Center for Pelvic Wellness as one of only four national sites to train surgeons on the techniques of noninvasive and aesthetic vulvar and vaginal surgery.
Whenever asked, Dr. Kimble freely expresses that he is privileged to share his work and home life with his wonderful wife. Above all, working alongside her has been his greatest honor.
Publications
David was featured in the November 2014 issue of 518Life.